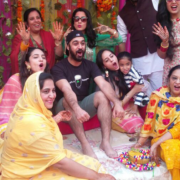 Marriages are made in heaven; they however, are planned and crafted here, by people who have the right vision and understanding. Upper crust events is just that and a lot more.
Hi, im Harkaran Singh from Chandigarh and i got married on 25th November 2016. As it is getting married can be a daunting task and thanks to my super planning and organization, i made it humongous. Amidst all the jitters and confusion, i knew i had to press the SOS button. And thank god the first and the only assitance came from UC events. They handled all my pending tasks with immense grace and so much dedication, that i could enjoy my own wedding without being stressed about the arrangements. It was right upto my family's expecations and a mile beyond.
UC took care of the decor, both at home and otherwise, my shagun lunch, besides coordinating my liquor availabilities and also my guests welfare. When you hire someone to plan your functions, you dont expect this sort of a personal touch and involvement, that i got here with these guys.
I am really thankful to ridhima sharma, sahil juneja and Navneet juneja for everything ranging from the marvellous decor, extended assistance, the dedication and all the love you've put into my wedding to make it just what i would have dreamt of. Your wish is our command, they say. And rightfully so!!
Oh! And theyr super affordable too winks
Heaps of love and admiration guys. Cheers!!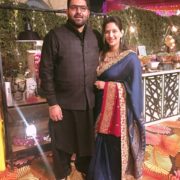 Hi guys! I am here to share my experience with upper crust, and I would like to start by thanking the team. They are a group of super talented people and so hardworking that you actually can't believe your eyes when you see them put in so much effort to make your event successful. We have had the pleasure of having them design two events for us and believe me we were never disappointed, rather it was much above promised. You must hire them for their dedication towards their work and how they make your special days theirs.
Thanks team upper crust.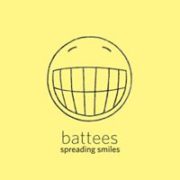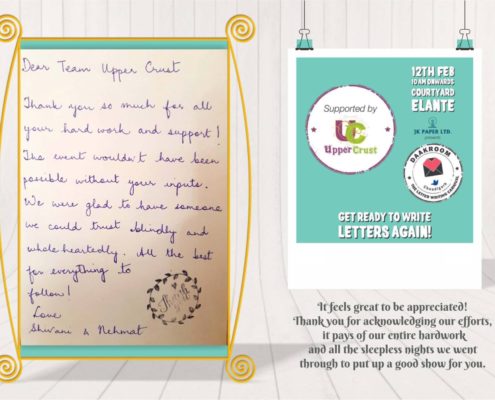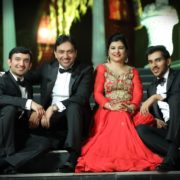 I got excited in my first meeting with Upper Crust. They have a cheer in their working style. And, Ridhima (Director) tops all of that.
I engaged them in the event planning of my Mom and Dad's Silver Jubilee on April 18, 2017.
We wanted to pull off two major events that were taking place in our city for the first time. So, we needed someone who could understand our vision and deliver up to our expectations.
It was my first experience in planning an event, and Upper Crust was instrumental in its successful implementation.
If you take them onboard, you can be confident that you'll get what you want. Leave it to them, and they'll manage (we needed a particular instrument band for our reception event, and they arranged it for us from Delhi).
They have a knack for delivering to perfection (we needed props for our marriage event, and they prepared excellent props for us).
I would recommend everyone to take their services and cherish the experience.
Really enjoyed working with them.
Cheers to Ridhima, Sahil, and Navneet!